The Maid of Fairbourne Hall by Julie Klassen
Period in Which the Story is Set: London,1815
Heroine:Margaret Macy ~ Hero: Nathaniel Upchurch
My Book Rating: 5 out of 5 stars
Book Blurb:
Pampered Margaret Macy flees London in disguise to escape pressure to marry a dishonorable man. With no money and nowhere else to go, she takes a position as a housemaid in the home of Nathaniel Upchurch, a suitor she once rejected in hopes of winning his dashing brother. Praying no one will recognize her, Margaret fumbles through the first real work of her life. If she can last until her next birthday, she will gain an inheritance from a spinster aunt–and sweet independence. But can she remain hidden as a servant even when prying eyes visit Fairbourne Hall?
Observing both brothers as an "invisible" servant, Margaret learns she may have misjudged Nathaniel. Is it too late to rekindle his admiration? And when one of the family is nearly killed, Margaret alone discovers who was responsible. Should she come forward, even at the risk of her reputation and perhaps her life? And can she avoid an obvious trap meant to force her from hiding?
On her journey from wellborn lady to servant to uncertain future, Margaret must learn to look past appearances and find the true meaning of "serve one another in love."
Book Review-
Julie Klassen loves everything Jane Austen and Jane Eyre inspired! So with every story Julie Klassen has ever written, there is something that is based on Jane Austen's work or Charlotte Bronte's Jane Eyre intermingled into her stories.
This story has a that touch of Jane Austen because the author was really working on the character of Margaret Macy. Margaret was the spoiled girl who wanted everything to go her way.  I've heard that some people even compare this to Downton Abbey. So, DOWNTON ABBEY FANS THIS MIGHT BE A GOOD BOOK FOR YOU!!

From the first time it came to when Nathaniel, the hero, was introduced in the story I was like "be still my heart!" Please be the hero! PLEASE! lol! Nathaniel almost reminded me of Mr.Rochester in Jane Eyre. Very dashing indeed! 😉

I love this book cover as well. Such vibrancy! Also the detail that's in the back of the book! It's very rare you see anything but the book blurb in the back. To have a picture plus the book blurb is a big plus!!
I really,really,really enjoyed this book from the first time I had read it! I had re-read it again this year and it was still good! That's the kind of books that I'm always looking forward to. A book that I can read over and over again and I loved it from the first time I set my eyes on it! This book will always be a brilliant classic that I will enjoy reading for about my whole lifetime!
This book was also a Christy Award winner! Something which is a no brainer because the book was beyond good!
I liked the setting the story was in and the characters were fully developed and had interesting background stories. They weren't  flat or dull at all.  Both Margaret and Nathaniel were very good characters.The book was very interesting to read and  it really gave some insight into the world of masters and servants.

If you've never read this book, I encourage you to read it! Another thing that I thought was interesting was that Julie Klassen added quotes or just very good information about this time period by various people in every chapter. It was very interesting to read and they really added that extra touch to the story as well. This book is AWESOME!  🙂

~About Julie Klassen~
To Find out more about Julie Klassen, visit:
COMING SOON FROM AWARD WINNING AUTHOR JULIE KLASSEN!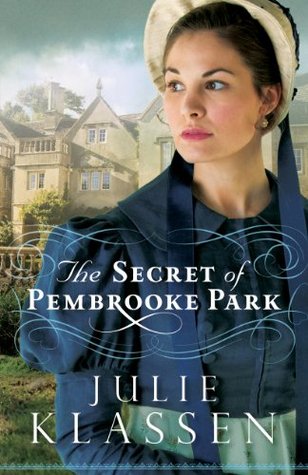 RELEASE DATE: DECEMBER 2,2014
(I CAN'T WAIT!)
*I wanted to start this random list of book reviews  because there have been some really great Christian Fiction books that have been published! There are also many newcomers to Christian Fiction and they may not know where to start.  So I'm going to try not to just stick to the new releases but also review past  book releases as well.I know you'll enjoy them!*
Happy Reading Y'all!!! 🙂