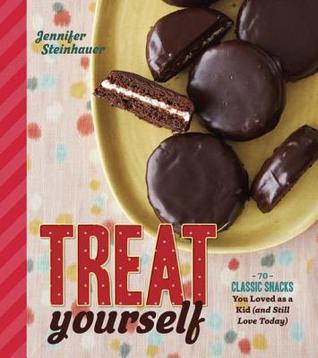 ~About~
If you grew up on corner-store treats, memory lane is paved with Ho Hos, Yodels, Oreos, and Ring Dings. And while your taste buds may have grown up a bit, chances are you still crave these classic flavors. Now you can re-create the lunch-box delights that made you the envy of other kids, with all-natural homemade versions.
After much obsessing and experimentation, Jennifer Steinhauer has cracked the code for 70 iconic treats to re-create in your own kitchen. There are cookies with a perfect crunchy base for cream filling, snack cakes with frosting so thick you can peel it off all at once, candies dipped in chocolate and dusted with sugar, and ice cream pops so juicy that they drip down your arm. A self-taught baker, Jennifer had no interest in complicated techniques or chemical gunk, just easy hacks that break down and remaster these throwback snacks.
So go ahead—treat yourself to your own homemade version of these favorites:
• Samoas, Pecan Sandies, Chips Ahoy!, and other classic cookies
• Nutter Butters, Mint Milanos, Oatmeal Creme Pies, and other sweet sandwich cookies
• Twinkies, Drake's Coffee Cakes, Devil Dogs, and other snack cakes
• Fig Newtons, Lemon Mini-Pies, Strawberry Pop-Tarts, and other fruity, filled treats
• Soft Pretzels, Pizza Pockets, Funyuns, and other salty, savory snacks
• Cracker Jacks, Goo Goo Clusters, Candy Dots, and other candy favorites
• Orange Creamsicles, Strawberry Shortcake Ice Cream Pops, Nutty Buddies, and other frozen treats
        ~My Review~
When I first saw this book, I was like, hmm… this looks very interesting! I'm all for the idea of creating a replica of a famous treat and it thus being a healthier version of the treats we all  love to "devour" every once in a while. This book does exactly just that with the author providing tried and true recipes of your most treasured delectable treat. Also, with me being a kid from a hugh family, it's wonderful to have recipes that  I can bake in bulk so that everyone will have the chance to enjoy them!
As the book says,those delicious treats that you enjoyed way back when or even those treats that you cherish now can be made and relished at home! How sweet is that? I really loved the fact that the author tried and tested every recipe in this book so that it would be close as it could to the real Little Debbie Cake or the Twix snack. That's what I call dedication!
Her pictures are just so delectable! I love it when a cookbook adds as much pictures as it can because if I'm baking something, I want to know what the end result should look like. I also love the fact that her recipes are very easy to follow along as I baked. That was awesome! Another great feature about this book was that the author added many,many good tips that would help the cook know how to make the recipe better. I personally learned a lot and that's something I'm very thankful for because I'm always looking for better ways to improve my cooking or baking.
Oh.My.Goodness!  I tried the "Oatmeal Creme Pies" recipe. Wow! I can't begin to tell you how good it was! It was a melt-in-my-mouth experience for sure! I was spellbound. I'm a very big fan of the "Little Debbie Oatmeal Pies" and to have a recipe I can make at home is just awesome! Even my biggest critics gave a thumbs up for this recipe! It restored my confidence in baking again! The version of "Oatmeal Pies" in this book tasted so much more healthier and fresher than the original! They had a very good taste. I did make a little bit of the cream for the recipe to go in the middle and it was good as well. I did however mostly use Marshmallow Fluff in order to save time and it was still good!
Though I thought something was wrong when my Oatmeal Pies weren't as dark as a normal Oatmeal Pie, it still had a very soft and moist flavor. So don't be alarmed if your pies don't brown as much as the original because it's okay! I just didn't want them to burn but maybe next time I'll try to leave them in the oven a little bit longer. You won't regret baking this because it was the BOMB! I can't even explain it! It tasted like an organic and fresh Oatmeal Pie. It wasn't sugarless either but it was just right! 😉

I was just amazed at all the recipes the author included in this book! It was from various recipes including, Homemade Oreos,Ice Cream Sandwiches,Twinkies,and Ice Cream Nutty Buddies! All homemade, without all the extra added sugar and stuff like that. REALLY AMAZING!
I'm glad that I had the opportunity to read this book and I can assure y'all that this cookbook will be used again in the future! I really recommend this book to any one who's looking for delectable and satisfying treats that the whole family can have fun making together at home. (4 stars)
(I love Chocolate and Mint! It's so tasty. There's also a recipe on how to make mint thins in this book!)
Happy Reading Y'all!!! 🙂
~Author Jennifer Steinhauer~
 *I was provided a copy of this book from Blogging For Books for this review. All opinions expressed are entirely my own*