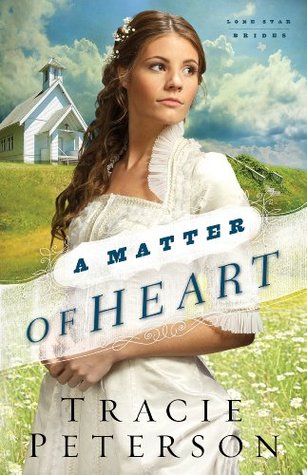 ~Synopsis~
Texas born and raised Jessica Atherton is a wealthy young woman whose heart was broken when the man she intended to marry wedded another. But her world is upended when two men come into her life and both manage to stir her heart. Harrison Gable is a rich young lawyer who intends to travel the world and live a life of opulence. His ambitions match Jessica's dreams, but her heart has begun to change.
Austin Todd, former Secret Service agent, enjoys working now as a Texas Ranger cattle inspector. But learning of forged gold certificates and missing printing plates, he's drawn back into the world of intrigue and agrees to help solve the case. Austin is well-thought-of and admired in the community. Jessica is drawn to his kind nature and the unspoken pain she sees in his eyes.
Will Jessica choose financial security or follow her heart?
~Review~
Tracie Peterson has become one of my favorite authors this year! Her stories are mostly always a simple and sweet treat to read. I've really enjoyed reading her books.
The heroine in this story,Jessica, was really something! I really liked reading about her character. I liked how the author introduced her story because it was something that many women in that era could really relate to. The hero,Austin, on the other hand, was pretty interesting to read about as well but somehow I couldn't really connect to his character in this story.
To be quite honest, to me the story did lag at times and most of the time the story didn't really hold my attention as much as I thought it would. Maybe it was because I didn't get a chance to read the first two books in this series. Even though the story was a pretty good read, this story wasn't really my cup of tea.The story is almost like a mystery as well but since I didn't read the first book in the series, I didn't really catch on.  I will try to read the first book in this series later on. There were many times that I was at lost knowing who the certain characters were in the story because they were from the previous books. I do recommend reading this series in order to fully enjoy the characters. That's just my opinion.
Overall, the book cover is absolutely stunning! I really liked the book cover. All in all, even though I didn't really enjoy this book as much I thought I would, I'm still looking forward to reading more books by Tracie Peterson.
*I received a free copy of this book from Bethany House Publishers. I was not required to write a positive review and all opinions expressed are entirely my own.*
HAPPY READING Y'ALL!!! 🙂