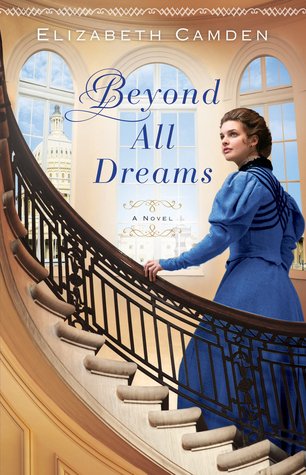 ~About~
Anna O'Brien leads a predictable and quiet life as a map librarian at the illustrious Library of Congress until she stumbles across a baffling mystery of a ship disappeared at sea. She is thwarted in her attempts to uncover information, but her determination outweighs her shyness and she turns to a dashing congressman for help.
Luke Callahan was one of the nation's most powerful congressmen until his promising career became shadowed in scandal. Eager to share in a new cause and intrigued by the winsome librarian, he joins forces with Anna to solve the mystery of the lost ship.
Opposites in every way, Anna and Luke are unexpectedly drawn to each other despite the strict rules forbidding Anna from any romantic entanglement with a member of Congress.
From the gilded halls of the Capitol, where powerful men shape the future of the nation, to the scholarly archives of the nation's finest library, Anna and Luke are soon embroiled in secrets much bigger and more perilous than they ever imagined. Is bringing the truth to light worth risking all they've ever dreamed for themselves?
~My Review~
I'm always eagerly anticipating a new novel from Elizabeth Camden and I wasn't disappointed at all with this book!
Beyond All Dreams is just my kinda book because I'm a very big advocate for believing in dreams and aspirations. Dreams in my opinion can be a driving force in a person's life even though it may look hopeless in the beginning. Trust me, it'll all be worth it in the end. I think that Elizabeth Camden did a great job of portraying just that in her book.
The heroine, Anna O'Brien, has a very interesting and intriguing story. In the story, Anna is a librarian in for the Library of Congress which is by the way could be a dream job for any book lover out there! Who wouldn't want to discover the wonders of the"King" of Libraries? I really liked Anna O'Brien's character.
The hero, was another one of Elizabeth Camden's smashing heroes! She is so talented at making her heroes some of the best heroes in Christian fiction, in my opinion, at least. Scarred by many things that happened in his early life, readers can sympathize and enjoy reading about Luke as his life unfolds in the story. Just take my word for it the hero is absolutely romantic! *sigh*
I think that the story came together very well as a whole. I was entranced by this novel from the beginning to the very end. There's nothing that I would change about this story but I would love to read more of Anna and Luke's story. It was perfect.
The book cover was also another beautiful work of art!
I highly recommend this book! It's another beautiful tale by Elizabeth Camden with all the combinations of adventure,humor,and romance any book lover will certainly enjoy! (5 stars)
Happy Reading Y'all!! 🙂