~Synopsis~
Miss Harriet Peabody dreams of the day she can open up a shop selling refashioned gowns to independent working women like herself. Unfortunately, when an errand for her millinery shop job goes sadly awry due to a difficult customer, she finds herself out of an income.
Mr. Oliver Addleshaw is on the verge of his biggest business deal yet when he learns his potential partner prefers to deal with men who are settled down and wed. When Oliver witnesses his ex not-quite-fiance cause the hapless Harriet to lose her job, he tries to make it up to her by enlisting her help in making a good impression on his business partner.
Harriet quickly finds her love of fashion can't make her fashionable. She'll never truly fit into Oliver's world, but just as she's ready to call off the fake relationship, fancy dinners, and elegant balls, a threat from her past forces both Oliver and Harriet to discover that love can come in the most surprising packages.
~My Review~
I REALLY enjoyed reading this book! This has to be one of the best books by Jen Turano yet! If you're a fan of this author's writing of you'll definitely wouldn't want to miss out on this book! She's getting better and better in her writing all the time! I always LOVE an author who's always growing in their writing and keeps me on the edge of my seat.
From the very first page, this novel really drew me into it's very exciting tale. I was really amazed at how the author gave the main characters so much depth. I was either smiling or laughing out loud throughout the whole story.
The chemistry between the two main characters Oliver and Harriet was AMAZING!
Harriet had such an interesting background story to read about as well and it was very uniquely done. I've noticed how Jen Turano's heroines are such lovable characters and I love how she develops her heroines. Harriet has to be her best yet because of her ongoing drama and her background story.
Oliver on the other hand, was such a swoon worthy hero that I do admit I had a book hero *crush*, lol! *sigh*
Overall, I loved how animated the characters were which to me is so essential to reading a great book. It was also good to see how the author really set a foundation for the next set of characters in her series. I think they were kinda like a comedy relief and a very special part of the story as well. "After a Fashion" was definitely a light-hearted,romantic, and charming read and I highly recommend this book! I didn't want it to end. Seriously! 😉
I'm definitely looking forward to her next book in this series!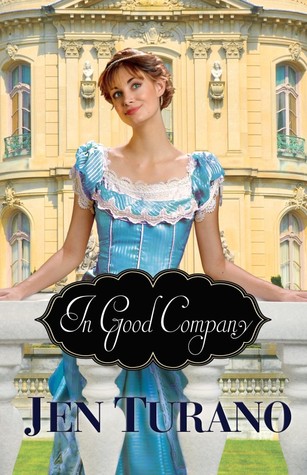 ~In Good Company~
Synopsis
After spending her childhood in an orphanage, Millie Longfellow is determined to become the best nanny the East Coast has ever seen. Unfortunately, her playfulness and enthusiasm tend to bring about situations that have employers looking askance at her methods. After her most recent dismissal, Millie is forced to return yet again to an employment agency.
Everett Mulberry has suddenly and quite unexpectedly found himself responsible for three children he's never met. Attempting fatherhood while also pacifying the less-than-thrilled socialite he intends to marry is made even more complicated when the children scare off every nanny he hires. About to depart for Newport, Rhode Island, for the summer, he's desperate for competent childcare.
At wit's end with both Millie and Everett, the employment agency gives them one last chance–with each other. Everett is wary of Millie's penchant for disaster, and she's not entirely keen on another snobby, grumpy employer, but they're both out of options. As Millie falls in love with her mischievous charges and tries to stay one step ahead of them, Everett is more focused on achieving the coveted status of society's upper echelons. As he investigates the suspicious circumstances surrounding the children's parents' death, will it take the loss of those he loves to learn whose company he truly wants for the rest of his life?
Expected Publication Date:July 7,2015
~The Author~
Happy Reading Y'all!!
*I received a free copy of this  book through Netgalley by Bethany House. I was not required to write a positive review. All opinions expressed are entirely my own.*