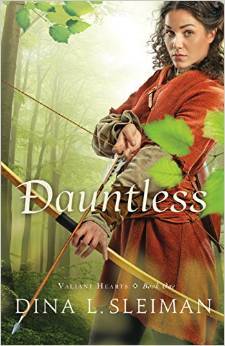 ~Synopsis~
Though once a baron's daughter, Lady Merry Ellison is willing to go to any lengths to protect the orphaned children of her former village. Dubbed "The Ghosts of Farthingale Forest," her band of followers soon become enemies of the throne when they hijack ill-gotten gold meant for the king.
Timothy Grey, ninth child of the Baron of Greyham, longs to perform some feat so legendary that he will rise from obscurity and earn a title of his own. When the Ghosts of Farthingale Forest are spotted in Wyndeshire, where he serves as assistant to the local earl, he might have found his chance. But when he comes face-to-face with the leader of the thieves, will he choose fame or love?
~My Review~
I'm not really a big fan of YA novels but "Dauntless" was a pretty impressive read for the most part. I remember reading Robin Hood years back and I really enjoyed reading it. So to have an author to follow the same premise and settings of Robin Hood is pretty awesome.
I really liked the idea that the author had in mind for this story. I'm a huge admirer of strong heroines whether it's in history or fiction. Two of my favorites are Mulan and Joan of Arc. 🙂
The heroine,Lady Merry, I really loved her character! In a way I think that she reminded me of myself and in that sense I could really relate to her.
I will admit that there were certain parts in the story that my mind did wander off or I had to skip some pages because I felt that some parts of the story was a bit long-winded. When I read a book I do expect to be interested in about 90 to 100% of the book. I think that if the author can put more work into the character development and just add that little bit of something that every reader expects in a well-loved book her stories will get better and better. I did like the adventure element as well but I think with a little bit more work it'll be perfect.
Overall, I think that this author might be interesting to watch as she endeavors to bring something different to the Christian fiction world as we know it. I enjoyed getting to know the characters in her book and I'm looking forward to seeing what next this author has in store. By the way, the book cover is AWESOME! I like the bow and arrow thing going on! 😉