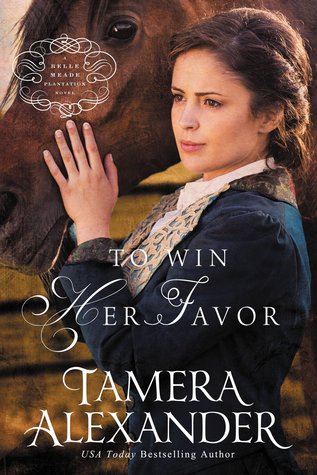 ~Synopsis~
A gifted rider in a world where ladies never race, Maggie Linden is determined that her horse will become a champion. But the one man who can help her has vowed to stay away from thoroughbred racing for good. An Irish-born son far from home, Cullen McGrath left a once prosperous life in England because of a horse racing scandal that nearly ruined him. He's come to Nashville for a fresh start, hoping to buy land and start a farm, all while determined to stay as far away from thoroughbred racing as possible. But starting over proves harder than he'd wagered, especially when Maggie Linden's father makes him an offer he shouldn't accept yet cannot possibly refuse. Maggie is certain that her mare, Bourbon Belle, can take the top purse in the annual Drayton Stakes at Nashville's racetrack––the richest race run in America. Maggie only needs the chance to prove it. To give her that chance, and to save Linden Downs from being sold to the highest bidder, Maggie's father––aging, yet wily as ever––makes a barter. His agreement includes one tiny, troublesome detail––Maggie must marry a man she's never met. A man she never would have chosen for herself. Cullen and Maggie need each other in order to achieve their dreams. But their stubborn, wounded hearts––and the escalating violence from a "secret society" responsible for lynchings and midnight raids––may prove too much for even two determined souls.
~My Review~
I've always had a special place in my heart for Tamera Alexander's novels. In fact her novels were among the first ones when I started reading Christian fiction. Naturally, I was looking forward to reading," To Win Her Favor" when I learned it was coming out.
To Win Her Favor in my opinion was one of her deeper books concerning a variety of subjects that I've never seen before in her novels. It's so good to see when an author can step out of their comfort zone and explore new territories in their writing. That takes talent!
I was deeply touched by not only the main characters but also the supporting characters as well.
I love,love,love story-lines that have to do with marriage of convenience. It's always good to read one every now and then. In my opinion, I think that the author added a very surprising twist to your typical marriage of convenience story. I was intrigued by both of the main characters stories but I was most intrigued by the heroine's husband story. Cullen's background story was so heart touching. The heroine was great as well and I loved her passion and determination in this story.
The only problems that I had with this novel was that in my opinion it was quite long. I do prefer my novels to not be too long or too short but right in the middle. The other thing is that I thought that the romance was a bit much at times. In my opinion, I think that this novel was considered more for mature audiences. I'll let you all decide. 🙂
Overall, this was a pretty good and enjoyable read. The book cover is absolutely magnificent! (3 stars)
Happy Reading Y'all!!
Author
* I received this book through Netgalley through Zondervan Publishers. All opinions expressed are entirely my own and I was not required to write a positive review.*