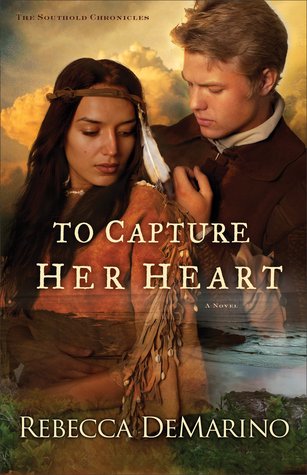 ~Synopsis~
It is 1653 and Heather Flower, a princess of the Montauk tribe, is enjoying her wedding feast when her groom is killed and she is kidnapped by a rival tribe and held for ransom. Though her ransom is paid by an Englishman, she is nonetheless left to die in a Connecticut forest–until she finds herself rescued by handsome Dutch Lieutenant Dirk Van Buren. Torn between her affection for Dirk and her long friendship with family friend Benjamin Horton, Heather Flower must make a difficult choice–stay true to her friend or follow her heart.
  ~My Review~
When I first saw the cover of this book I was amazed and I wanted to read the story right away. The book cover looks so amazing. Also after reading the book,"Courting Morrow Little" I'm always willing to read books that are similar.
The beginning of the book had a very intriguing first chapter. That's something I always look for in any book that I read.
It was very enjoyable to read about the different customs with the Indian tribe that Heather Flower,the heroine,was from.
For some reason I really couldn't connect with the hero in this novel. I also felt that some of the situations in this novel was a bit repetitive and as far as characters goes I couldn't really enjoy them because they felt one-dimensional. I think that the novel and the characters needed more life. Period. I also had a problem figuring out if this was a romance or just a historical fiction read because I really wanted to feel and see more of the romance between the two characters.
Overall, this was a pretty alright read but I just expected more to this novel. Not only do I want to be amazed by the book cover but I expect the novel and the whole cast of characters to be spectacular as well. (3 stars)
*I received this book through Netgalley by Revell. All opinions expressed are entirely my own.*