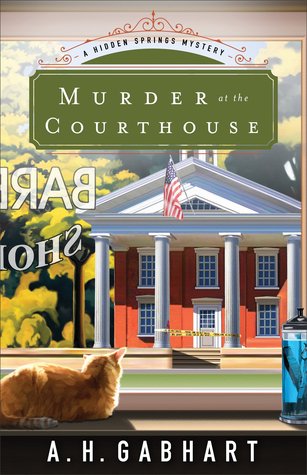 *Synopsis*
After a few years as a police officer in Chicago, Michael Keane has no trouble relaxing into the far less stressful job of deputy sheriff in his small hometown. After all, nothing ever happens in Hidden Springs, Kentucky. Nothing, that is, until a dead body is discovered on the courthouse steps. Everyone in town is a little uneasy. Still, no one is terribly worried–after all the man was a stranger–until one of their own is murdered right on Main Street.
As Michael works to solve the case it seems that every nosy resident in town has a theory. When the sheriff insists Michael check out one of these harebrained theories, his surprising discovery sends him on a bewildering search for a mysterious killer that has him questioning everything he has ever believed about life in Hidden Springs.
Bringing with her a knack for creating settings you want to visit and an uncanny ability to bring characters to life, A. H. Gabhart pens a whodunit that will keep readers guessing.
*My Review*
Well, as you all may know, I'm always looking for the next big thing when it comes to reading a Christian fiction novel or perhaps any novel that I may be interested in reading. I am of the opinion that I don't EVER want the books that I decide to read to plateau or just be the ordinary story.
When I found out that that Ann Gabhart was coming out with a new book I was immediately interested . I have read only a few books by Ann Gabhart and in my opinion they were a few hit and misses.
What I liked most about Murder at the Courthouse was that it certainly started out with a very interesting beginning. I cherish interesting and gripping beginnings because that's the only assurance that I would more than likely enjoy the rest of the book.
I liked the main character Micheal pretty well. The mystery was pretty interesting as well because it kept me turning page after page to learn what would happen next. The story as a whole was an alright read but me personally I felt that it could have been more. That something that would make this novel stand out. I just didn't feel a close connection with this novel that I was anticipating. I like my mysteries to make me scared to sleep at night and the murderer almost getting away with everything up until the end.
Overall, I think that this novel was a pretty alright read and it wasn't too long which is a good thing. This novel was just missing a little bit more of that special something to make it that much more enjoyable. It was a good book in its own right but not something I would be reading again. ( 3 stars)
*I received a free copy of this book through Revell Blog Tours. All opinions expressed are entirely my own.*