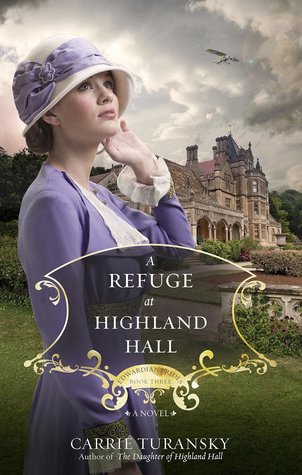 ~Synopsis~
In this third and final book in the Edwardian Brides Series, you'll be swept away to England and France in 1915 as the Ramsey family and their staff and friends face the dramatic challenges and losses of World War One, yet they also experience the hope and triumph that comes as they put their trust in God to carry them through. Penny Ramsey helps the family welcome a group of orphaned children to Highland Hall, but she soon discovers caring for them is more difficult than she'd expected. She writes to Alex Goodwin, a daring British pilot, who chases German zeppelins across the sky over the Front Line in France, and longs for the day she will see him again. You'll be delighted by two pure and heartwarming romances: Penny and Alex, and Lydia Chambers and Marius Ritter, a lady's maid and a prisoner of war. But most of all I hope you'll be inspired by the characters' examples of trusting God through the trials they face.
Fans of "Downton Abbey" will find many of the same elements in this series: A wealthy, aristocratic family living on a large English country estate with romance, conflicts, and family drama; and loyal servants with troubles and heartaches of their own.
       ~My Review~
A Refuge at Highland Hall~Carrie Turansky~
I thought this was an interesting read and I was very intrigued by her first book in this series which prompted  me to keep reading her novels. I think that this author has a very unique way of writing something and I think that is a very big plus in my book when it comes to reading novels.
First of all, while I was reading this novel I realized how lively and real her characters are. Finding lively and interesting characters that grip your imagination are sometimes hard to find while reading a novel. Also the book cover looks awesome!
A Refuge of Highland Hall is loosely based on Downton Abbey and even though I'm not a Downton Abbey fan I still find the setting and story-line very worth reading.
All in all, this novel ended this series pretty nicely with intrigue and adventure included in the mix. I did have a connection with the different characters and I was submerged into the story-line. I can't wait to see what else this author has in store! I highly recommend Carrie Turansky's writing.
*I received this book from Blogging for Books. All opinions expressed are entirely my own.*