~Synopsis~
A Story of Love, Desperation, and Hope During a Great Biblical Epoch
Sold into slavery by her father and forsaken by the man she was supposed to marry, young Egyptian Kiya must serve a mistress who takes pleasure in her humiliation. When terrifying plagues strike Egypt, Kiya is in the middle of it all.
To save her older brother and escape the bonds of slavery, Kiya flees with the Hebrews during the Great Exodus. She finds herself utterly dependent on a fearsome God she's only just beginning to learn about, and in love with a man who despises her people. With everything she's ever known swept away, will Kiya turn back toward Egypt or surrender her life and her future to Yahweh?
                             ~ My Review~
Counted with the Stars~Connilyn Cossette~
Can I just say wow!! Just WOW!! This book was incredibly awesome and well written. It was a powerful and moving book for a debut author.
Counted with the Stars was filled with adventure,love and romance all combinations of which I LOVE to see in any novel that I read. I was throughly engrossed which is kinda hard for me these days because I stay busy. I really,really, enjoy when a book can pull me from reality into a blissful peaceful world of imagination.
It was amazing to read about the different characters in this novel. I especially love how the author gave the main character such a unique background story.
The author also gave a glimpse into what life would've been like during the days of Moses and ancient Egypt.
It was quite extraordinary to see how the plagues disrupted everything in a normal day in ancient Egypt. Also in the book like the Bible it illustrates how that each and every one of the plagues had a direct hit on all the gods of Egypt so that God could prove that He was the ONLY living TRUE GOD.
The romance in this book was very heart-felt and I did have a wow moment because it was so GOOD!
I literally didn't want this novel to end. This may be one of the best books in Biblical fiction this year. I guess I'll have to see because I'm pretty behind in my reading.
I absolutely enjoyed this story! it was heartfelt and unique in its own way. I can't wait to read whatever else this author has in store. Oh yeah, I almost forgot, I love the book cover. It's so beautiful! (4.5 stars)
~The Author: Connilyn Cossette~
*I received a free copy of this book through Bethany House Publishers. All opinions expressed are entirely my own.*
COMING SOON FROM CONNILYN COSSETTE!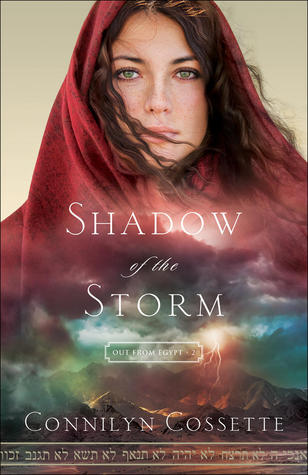 In the Depth of the Storm's Shadow, Only Truth Can Light Her Way
Having escaped Egypt with the other Hebrews during the Exodus, Shira is now living in freedom at the foot of Mt. Sinai, upon which rests the fiery glowing Cloud containing the shekinah glory of God. When the people disobey Yahweh and build a golden idol, the ensuing chaos gives Shira an unexpected opportunity to learn the arts of midwifery. Although her mother wishes for her to continue in the family weaving trade, Shira's gifts shine brightest when she assists with deliveries. In defiance of her mother, Shira pursues her heart's calling to become an apprentice midwife.
When a delivery goes horribly wrong, Shira finds herself bound to a man who betrayed her, the caretaker of three young children, and the target of a vengeful woman whose husband was killed by Shira's people, the Levites. As contention between the Hebrew tribes and the foreigners fans the flames of another dangerous rebellion, Shira will come face-to-face with the heartbreak of her past that she has kept hidden for so long. How can she let go of all that has defined her to accept the love she's denied herself and embrace who she truly is?
RELEASE DATE: OCTOBER 18,2016
I can't wait!