(pic from Pinterest)
Have a blessed week everyone!
~Synopsis~
For plucky Lillian Avery, America's entry into World War II means a chance to prove herself as a pharmacist in Boston. The challenges of her new job energize her. But society boy Ensign Archer Vandenberg's attentions only annoy–even if he "is" her brother's best friend.
During the darkest days of the war, Arch's destroyer hunts German U-boats in vain as the submarines sink dozens of merchant ships along the East Coast. Still shaken by battles at sea, Arch notices his men also struggle with their nerves–and with drowsiness. Could there be a link to the large prescriptions for sedatives Lillian has filled? The two work together to answer that question, but can Arch ever earn Lillian's trust and affection?
~My Review~
 I love,love reading Sarah Sundin's novels. Every since I read her first novel, I've been entranced by her lively and creative writing. If you've never read her novels, you should because you'll never regret it!
From the very first page in this novel, I was drawn in.
I really liked reading about Lillian's character. I thought it was very rare to read about a pharmacist in a novel and I thought it added a nice touch to the story.
On the other hand, Arch's character had an interesting story as well because I thought that his story is so relevant today as far as understanding or misunderstanding many of our war heroes today.
Anchor in the Storm was a pretty good read well worth my time. The only problem that I had was that it seemed like it was one of the longest of her novels. I can be pretty difficult when it comes to the length of a book. I like mine in the middle it can't be too long or too short. I highly recommend this novel and I can't wait to read the next book in the series!
"I received a free copy of this book through Revell Publishers for an honest review. I was not compensated for my review. All opinions expressed are entirely my own."
~~~~~~~~~~~~~~~~~~~~~~~~~~~~~~~~~~~~~~~~~~~~~~~~~~~~~~~~~~~~~~
PRESENTING UPCOMING NOVEL:  WHEN TIDES TURN BY SARAH SUNDIN!!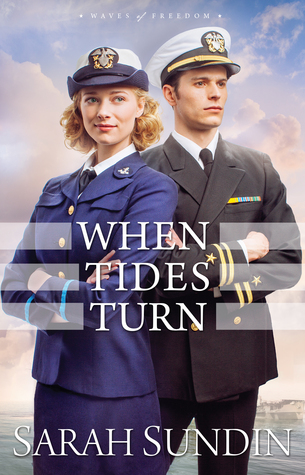 The last thing naval officer Dan Avery wants to see on his radar is glamour girl Quintessa Beaumont—even if she has joined the WAVES.
When fun-loving glamour girl Quintessa Beaumont learns the Navy has established the WAVES program for women, she enlists, determined to throw off her frivolous ways and contribute to the war effort. No-nonsense and hoping to make admiral, Lt. Dan Avery has been using his skills to fight German U-boats. The last thing he wants to see on his radar is a girl like Tess. For her part, Tess works hard to prove her worth in the Anti-Submarine Warfare Unit in Boston—both to her commanding officers and to the man with whom she is smitten. When Dan is assigned to a new escort carrier at the peak of the Battle of the Atlantic, he's torn between his lifelong career goals and his desire to help Tess root out a possible spy on shore. The Germans put up quite a fight, but he wages a deeper battle within his heart. Could Tess be the one for him?
With precision and pizazz, fan favorite Sarah Sundin carries readers through the rough waters of love in a time when every action might have unforeseen world-changing consequences.
Coming in March 14,2017
(Very nice book cover by the way. 😉