~Syopsis~
Lucy Drake's mastery of Morse code has made her a valuable asset to the American news agencies as a telegrapher. But the sudden arrival of Sir Colin Beckwith at rival British news agency Reuters puts her hard-earned livelihood at risk. Newly arrived from London, Colin is talented, handsome, and insufferably charming.
Despite their rivalry, Lucy realizes Colin's connections could be just what her family needs to turn the tide of their long legal battle over the fortune they were swindled out of forty years ago. When she negotiates an unlikely alliance with him, neither of them realizes how far the web of treachery they're wading into will take them.
My Review
As you all know if you've followed my blog for a while, Elizabeth Camden is one of my all time favorite writers!
For the most part, her books are heartfelt,funny,and unforgettable.
I'm always waiting to read her books as soon as I can get my hands on a copy.
As always, this book had a very interesting beginning. I loved learning about the character Lucy. The mystery in the book
was very intriguing to read about. I think this might have been one of the first book by this author that really embraced mystery and suspense
into the story. I must say that were a little slow-moving moments in the story from time to time. I also felt that there could have been a little bit more chemistry between the two main characters.
Overall, I really enjoyed reading this novel. As always, I'm looking forward to reading more from Elizabeth Camden. Her next book comes out in June! I can't wait!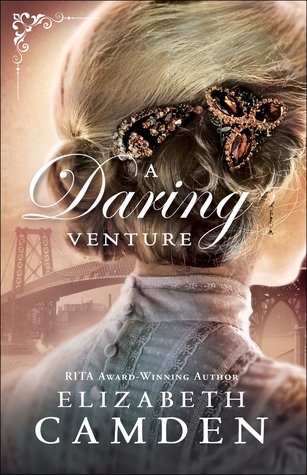 I received a free copy of this book from the publisher in exchange for an honest review. All opinions expressed are entirely my own.