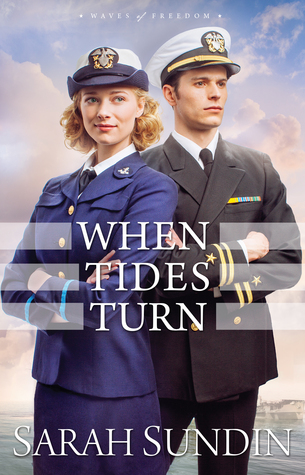 ~Synopsis~
Tess Beaumont is tired of being thought of as just a pretty face. Eager to do her part for the war effort, she joins the Navy's newly established WAVES program for women. Perhaps there she can convince people that there is more to her than meets the eye.
Lt. Dan Avery has been using his skills in the fight against German U-boats and hoping to make admiral. The last thing he wants to see on his radar is a girl like Tess. Convinced that romance will interfere with his goals, Dan is determined to stay the course, no matter how intriguing a distraction Tess is.
But love, like war, is unpredictable. When Dan is shipped out at the peak of the Battle of the Atlantic, he finds himself torn between his lifelong career goals and his desire to help the beguiling Tess root out a possible spy on shore. Could this fun-loving glamour girl really be the one?
~My Review~
Wow! Sarah Sundin never fails to disappoint! Why did I wait so long to read this book?
What really drew me to this book was the beautiful book cover of course! I LOVE this book cover and when I saw it I knew that I had to read it.
The story was very moving and I love how Sarah Sundin interweaves history and drama into her novels. I also love how most of her books are interconnected but you can still read this book as a stand-alone as well.
I just love reading Sarah Sundin's books and I can't wait to read her next novel. I highly recommend this novel!
*I received a free copy of this book in exchange for a review. All opinions expressed are entirely my own.*