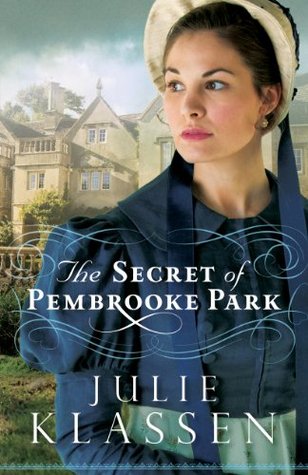 ~About~
Abigail Foster fears she will end up a spinster, especially as she has little dowry to improve her charms and the one man she thought might marry her–a longtime friend–has fallen for her younger, prettier sister.
When financial problems force her family to sell their London home, a strange solicitor arrives with an astounding offer: the use of a distant manor house abandoned for eighteen years. The Fosters journey to imposing Pembrooke Park and are startled to find it entombed as it was abruptly left: tea cups encrusted with dry tea, moth-eaten clothes in wardrobes, a doll's house left mid-play . . .
The handsome local curate welcomes them, but though he and his family seem to know something about the manor's past, the only information they offer Abigail is a warning: Beware trespassers who may be drawn by rumors that Pembrooke contains a secret room filled with treasure.
Hoping to improve her family's financial situation, Abigail surreptitiously searches for the hidden room, but the arrival of anonymous letters addressed to her, with clues about the room and the past, bring discoveries even more startling. As secrets come to light, will Abigail find the treasure and love she seeks…or very real danger?
~My Review~
I had been looking forward to reading this book ever since I knew it was coming out! I'm always in very high expectations to read anything by Julie Klassen. If you would look at the book cover it will almost have a story to tell in itself. That's AWESOME when a book cover can give a little glimpse into what the story would be about. To me it was like anticipating an upcoming movie!
Throughout the story there are many,many Jane Austen inspired situations and that made it even more enjoyable. There were a lot of situations that put me in mind of Mansfield Park and Northanger Abbey. It was truly inspiring. There was a lot of mystery and intrigue included throughout the story and it always kept me at the edge of my seat for the majority of the time. One warning though, "TRY NOT TO READ IT AT NIGHT!" In a way, it was intriguing how the suspense and the mystery really drew me in but I have poor nerves and faint of heart when it comes to suspense! That's just how I am. So if you love reading Regency and Mystery this is definitely the book for you! In my opinion, this story had a bit of a different twist than the usual Julie Klassen book and I think that this book is an example of her talent to really push herself to the limit to spark the imagination among her fans. I loved it!
I really enjoyed reading about the heroine,Abigail. It was wonderful for me as a reader to be included in the adventure along with Abigail as she tried to discover the secret of Pembrooke Park.
Let me not get started with the hero, William! WOW,WOW,WOW! When you read this book you'll understand. I really enjoyed William's sermons. They were truly a blessing! It very inspiring. Sometimes there are times that I'm not a fan of reading sermons in books because sometimes it can be too preachy or it sometimes could feel like the author is pushing their beliefs on the reader. There was none of that in Julie Klassen's story. The sermons were fantastic and I was deeply moved.
I certainly do recommend reading this well done classic by Julie Klassen. It's absolutely a Jane Austen inspired novel with more than enough mystery to keep you awake at night wanting more! My only slight problem with this book is that it was a tad bit longer than I expected. I do love my books to be not too long or not to short but I what I cherish most is that my favorite authors pour their heart and soul into the story. To me that's what makes it a keeper in my opinion. I hope you all know what I mean. 🙂
Last but not least, the book cover is hands down one of the perfect book covers! It was really well done. If I could, that book cover would be framed and hanged on my wall to admire its beauty. That would be so awesome! Well done Julie Klassen! I can't wait for her next book,"Lady Maybe".
Until next time!
Happy Reading!
*I received this free copy from Bethany House for an honest review. I was not required to write a favorable review. All opinions expressed are entirely my own.*
Julie Klassen's next book